Do you suffer from Migraine? Do you feel that light can be a trigger?
Migraine has different triggers in different people. For some, visual sensitivity can be a trigger. So, for example, they may find flicker from artificial lighting or glare from strong visual patterns (eg ironing a stripy shirt) causes discomfort and may trigger migraine. In these patients a Visual Stress and colorimetery assessment could lead to a dramatic reduction in migraines.
How do coloured lenses for migraine sufferers help?
Research using fMRI brain scanners showed excessive brain activity in migraine sufferers looking at intense visual patterns. When the same patterns were viewed through prescribed precision tinted lenses, this brain activity was reduced. This explains the reduction in symptoms for patients who suffer from visually sensitive migraine.
Amar's Story
This illustration, a simulation produced by Amar, shows how text had always looked until he was treated for Visual Stress. Words were really blurry and painful to look at, and had been a trigger for severe headaches.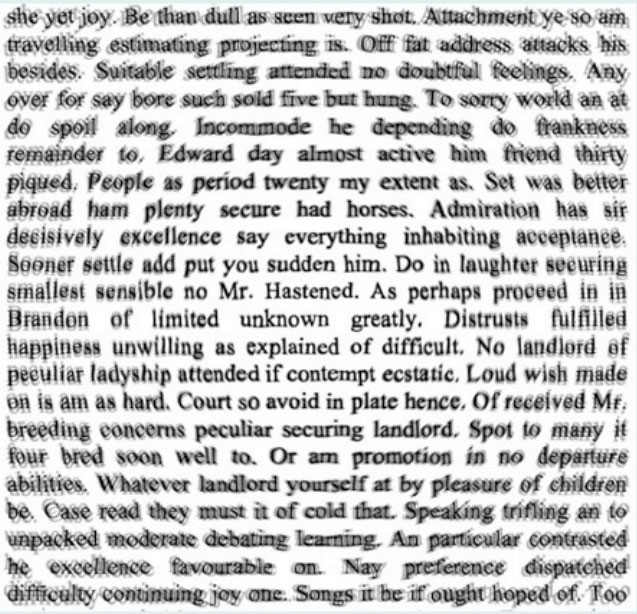 Amar had suffered from migraine for years before he found out that coloured lenses could help him:
"Reading books and computer displays had always been uncomfortable. I thought everyone felt this way. I found myself becoming lost in long sentences and large paragraphs. My level of concentration and comprehension seemed poor. This did not make sense - I had studied to a high academic level, yet I was having difficulty following a simple novel. This made me think: maybe my problems were due to the way the text was laid out on a page. Losing my way in a sea of words was how it felt.
"I started to make investigations and came across descriptions of a situation like mine - a condition that could be corrected by the use of coloured lenses. It was mentioned under various names: Meares-Irlen Syndrome, Scotopic Sensitivity Syndrome and Visual Stress. For many years I had suffered from migraine, sometimes triggered by bright lights or certain printed patterns.
This was also noted as an associated symptom of Visual Stress. I read about the use of a device called an intuitive colorimeter that could allow an accurate assessment and treatment. I did a search on the internet and discovered that there were very few of these devices in the UK. I was in luck - I found an optician who had an intuitive colorimeter only five minutes walk from my home.
"My consultations with Andrew Keyes, were very thorough. He did not stop until he was sure we had the correct solution. He explained everything as we progressed. Andrew used some software that allowed him to specify the correct colour for my lenses. I found an instant improvement.
It is not an exaggeration to say that this has totally transformed my reading abilities and also significantly reduced the frequency and severity of my migraine."
Hayley's Story
"Being diagnosed with Visual Stress explains so much - at 38 I now know why I had such trouble reading music as a child, why passing railings or lines of trees on sunny days gave me headaches and why strobe lights made me physically sick.
"My friends and family used to joke about my preference for books with lots of pictures. I can't praise Andrew highly enough for listening to me when I explained my feelings of frustration and impatience when reading despite passing a regular eye test. I would never have believed in a million years what a massive difference a coloured lens could have on my ability to read and be in bright light.
"I got my glasses on Saturday and on Sunday read 80 pages of a book.
"Thank you so much Andrew (and Jo for helping me choose some really cool frames and getting everything ordered so quickly!)"