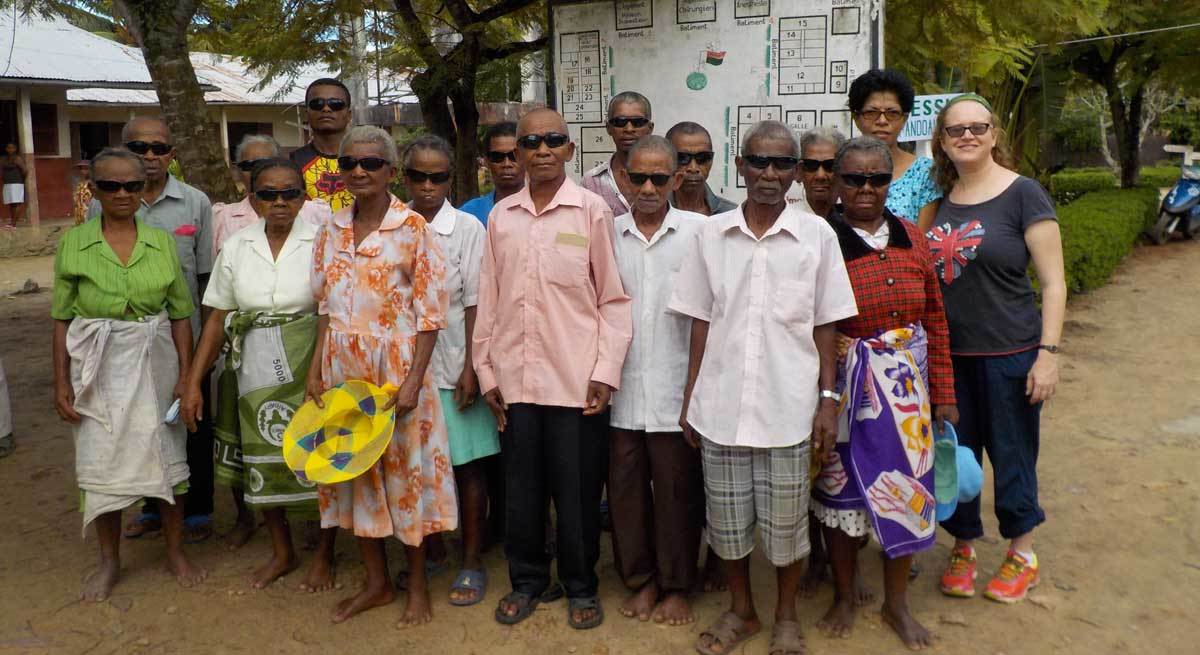 Posted on
Please get involved with our fundraising project. Madagascar is the poorest country in the world that is not in conflict. It is known for its diverse wildlife, but the plight of its people often gets forgotten. Malnutrition affects nearly 50% of children in Madagascar. This month you can make a difference through our partnership with Mandritsara Hospital.
We have had links with Mandritsara hospital for a number of years, helping out in a very small way by providing glasses for staff and patients when their prescriptions are too complex to be supplied locally. So, I was shocked to read in a recent newspaper article that chronic malnutrition affects half of Malagasy children. Chronic malnutrition is caused by lack of nutrients in the diet, which consists mainly of rice. This restricted diet results in seriously stunted growth and health problems, leaving families too ashamed to send their children to school.
Vicky Hopley has been involved in eye care in Madagascar since 2005. Vicky and I often reflect on how different her work is to mine and how our paths have taken us in different directions. Vicky is an ex-Church High friend, who qualified at the same time as me and after 6 years at Sunderland Eye Infirmary, and a number of short term trips with Vision Aid Overseas, decided to train to go into full time work overseas.
"I am a Missionary Optometrist, which means that I am sent by St Mary's Church in Ponteland, through "Friends of Mandritsara Trust" to work in the ophthalmology department of a rural Christian hospital in the North East of Madagascar in a town called Mandritsara.
I work alongside 3 Malagasy staff offering a very basic eye service. What never ceases to amaze me is that in the middle of nowhere, where at certain times of the year we are completely cut off due to the state of the road, people can still walk for several days and come to the hospital to have their cataract removed, have access to a pair of glasses or receive treatment for an eye injury. I will never forget doing a post-operative check on a lady who had had both cataracts removed, I asked her how her vision was and she replied "Great. I can see the fleas now!". Being part of a team that provides this life changing gift of sight is such a privilege. "
I explained to Vicky that we are keen to do more to support their work and asked what we could most usefully do to make a difference.
"Our project deals with the daily consequences of malnutrition. The community health department addresses the issue and is involved in education programmes. But I think the best link with Keyes Eyecare would be to help with the funding of cataract surgery. Culturally, it is very important for patients to pay for their health care. Our goal at the hospital, though, is to keep the cost of care to a minimum, so that it is accessible to all. We subsidise the cost of every cataract operation by £10 and need to raise funding for this. We undertake about 450 cataract operations each year. The total cost of an operation is about £30. The patients and their family will save up for their contribution and often will sell a cow to cover the cost. "
So, until the 31st March, for every pair of glasses you buy, Keyes Eyecare are going to give £10 to cover the funding needed for a cataract procedure. We would also like to encourage you to consider giving to the project too. We have set this project up directly with the hospital in Mandritsara so that every penny given by Keyes Eyecare and our patients goes to clinical care. There are no admin costs associated with this project; everything that you give goes directly to benefit patients in Madagascar.
Cataract surgery isn't done until vision is very poor, so the result of the surgery is immediate and dramatically life changing. If you would like to make a donation towards this great project, you can do so online at http://www.totalgiving.co.uk/mypage/HVM-Cataracts. Or, treat yourself to a new pair of glasses!