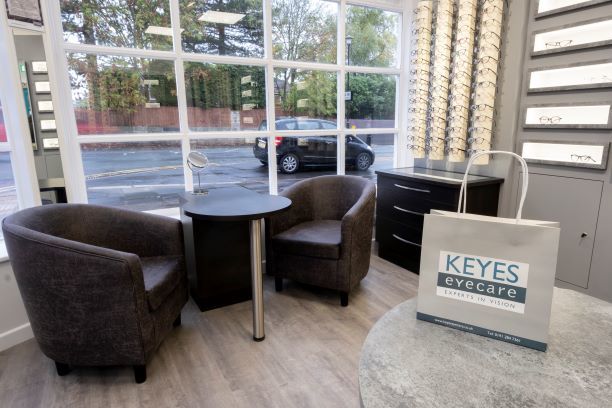 Posted on
A recent discovery for one of our patients with Macula Degeneration and Charles Bonnet Syndrome brings hope that specialist Escoop lenses might bring relief for others who sufferer from visual hallucinations due to their sight loss
It is always wonderful to get feedback when people have appreciated our help, but from time to time we get some particularly heart-warming feedback. Here is a Google review, shared here with permisiion, that we received today from one of our patients and his family,
"My father has Macular Degeneration, through a friend I heard of new lense technology called eScoop lenses, that helped him tremendously in day to day life.
On his recommendation I booked my father in with Keyes and hoped they would make a difference to him.
In addition to his sight issue my father is elderly and has mobility problems. The staff could not have been more patient and accommodating. His welfare and safety was paramount to them, particularly as we were in the middle of the covid pandemic.
He felt really comfortable during his appointments.
The new lenses have improved his day to day living, allowing him to enjoy the simple things that had previously been lost to him. TV, seeing his own face, and the faces of his family, for the first time in a long while. Being able to make out the food on his plate. Almost eliminating the hallucinations brought about by his Charles Bonnet syndrome within the first week of wearing them.
My family and I are truly grateful to the staff and the technology they introduced to my father."
Charles Bonnet Syndrome (CBS) has been in the news in the last couple of weeks with Coronation Street's Johnny Connor, The Rovers Return's landlord, experiencing disturbing visions of mice, cockroaches and his dead son. The BBC also ran a story this week about CBS as the RNIB helpline has received a 50% increase in calls regarding CBS during lockdown. For those with sight loss, the triggers for CBS are all closely related to the experiences of loneliness, reduced exercise and dealing with ongoing bad news, all too common in lockdown.
CBS is an experience of vivid visual hallucinations – seeing things that aren't there. The hallucinations can range from person to person, but those described by Johnny Connor were typical. They normally occur when someone has lost 60% or more of their sight as the brain actively looks for signals from the eyes to process, even when these aren't available. The brain's response when it doesn't receive clear signals, normally due to retinal damage, is to work harder at making sense of the visual world, with the result that it makes things up that aren't actually there. This can be a very disturbing and isolating experience especially if sufferers are reluctant to talk about it.
Escoop lenses work by magnifying the image received at the retina and also move the image from the damaged central retina to an area of retina that is less damaged, though not normally used for detailed vision, such as seeing faces. In our patient's case, the Escoop lenses improved the vision enough for the brain to have enough real vision that it has almost stopped "filling in the gaps" almost entirely eliminating the disturbing hallucinations!
If you know someone who has been affected by Charles Bonnet Syndrome, you can find out more information at www.charlesbonnetsyndrome.uk/