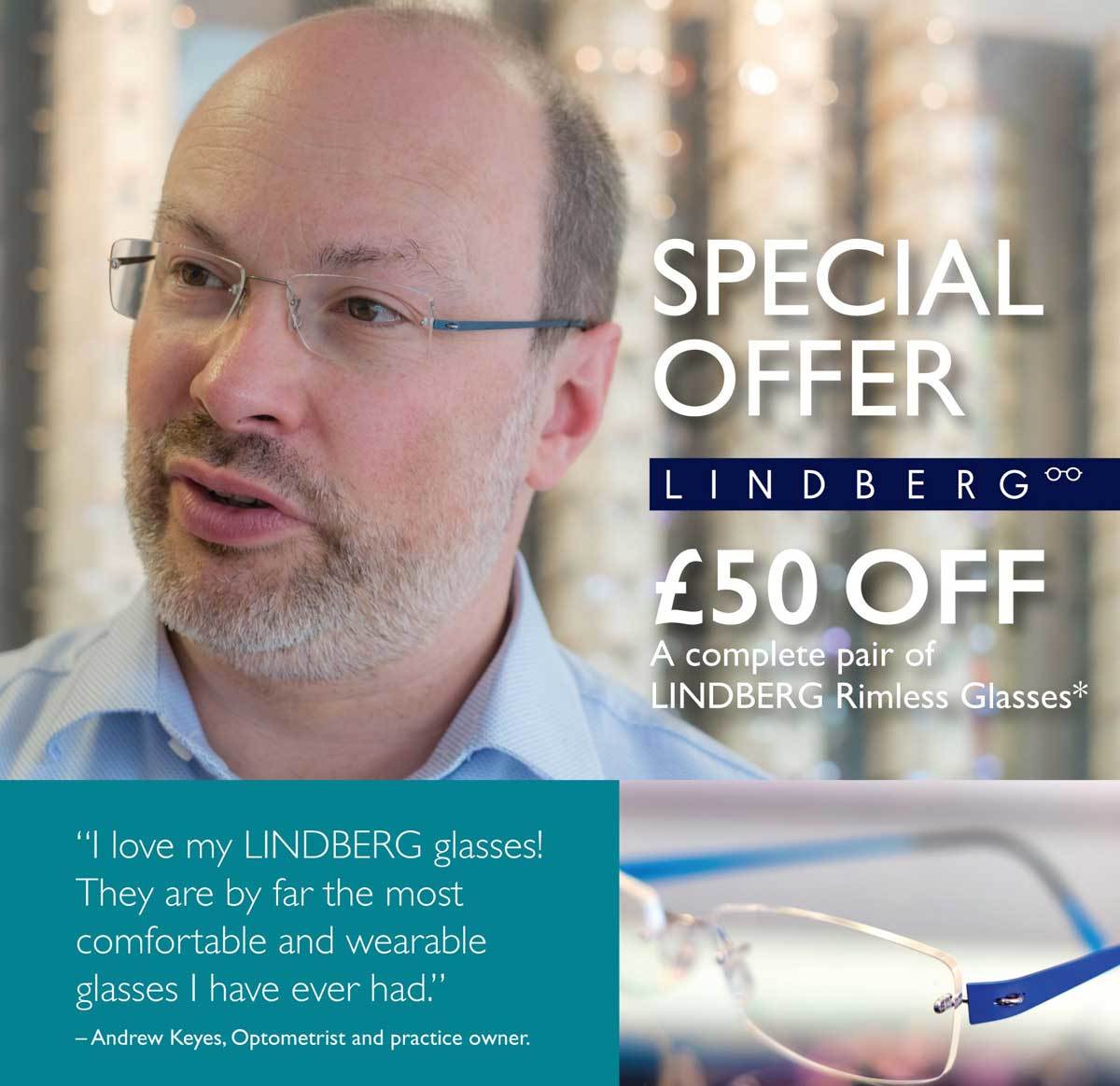 Posted on
LINDBERG rimless frames are a perfect blend of comfort and elegant minimalist design.
At Keyes Eyecare opticians, Newcastle, we are constantly seeking out the world's best niche frame designers. The best ranges of spectacle frames often come from small teams of craftsmen who make frames by hand.
Many of our frames come from Danish designers, where "Hygge" (pronounced hue-gah) is all the rage! Hygge is a Danish word that has no exact English translation but has the sense of making something cosy, charming & special.
Patented LINDBERG innovations along with carefully engineered and hand crafted details have ensured LINDBERG frames are of the highest quality.
LINDBERG have removed everything that is not essential – including all screws, rivets and welds and are made from high quality titanium. This means that over half of the LINDBERG rimless range weighs less than 1.9g! Simply put, they are among the lightest and most comfortable glasses in the world. Both our optometrist, Andrew, and our dispensing optician, Anthony, love theirs!
As a local independent opticians in Newcastle since 2002, we pride ourselves on our hand-picked spectacle frame selection. There is a lot of competition to get frames into stock at our award-winning practice and part of what we look for is a range that shows extra special craftsmanship. We also love frame ranges that tell a story. LINDBERG spectacle frames do both of these!
In the 1980s when Optician Poul-Jorn Lindberg needed glasses for the first time, he couldn't find any that were as comfortable as he'd hoped, so, combined with architect friend Hans Dissing, set out to innovate a new gold standard in eyewear, that would become legendary. LINDBERG have won 77 design awards and have been worn by countless royalty and celebrity, including those who have their own spectacle frame brands such as Miuccia Prada and Giorgio Armani.
LINDBERG glasses fit perfectly with our vision to stock quality stylish glasses at our opticians in Newcastle. They are an expression of individually crafted, discreet excellence.
We are proud to be one of only a select number of LINDBERG supplying opticians in Newcastle upon Tyne and the North East.
As the only supplier of lightweight LINDBERG rimless glasses in an opticians in Gosforth, we love the range and all that they offer our patients. You really have to try them on to experience the comfort and style.
Discover LINDBERG for yourself! Just call in to view the range and receive £50 off a pair of LINDBERG rimless glasses with this article.